Jordan Peterson's quest for freedom
Jordan Peterson is a Canadian university professor who came to fame in 2015 after publishing a YouTube video where he expressed his concerns about the growing emphasis on political correctness and its effects on freedom of speech.
Since then, he became globally known and de facto an intellectual leader when it comes to freedom of speech. His outgoing and sharp attitude brought him a large army of followers but also a lot of enemies.
We looked into his chart to decipher his sudden fame and why he is involved in such thematic in the first place.
Peterson is born as Yin Metal Master Element. Yin Metals are known for their sharp minds, especially if it has access to Water Element, which acts as an Output Component.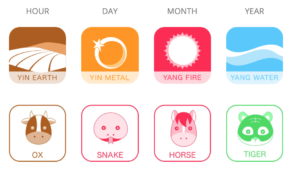 In his chart, we will find Yang Water on top of the year pillar. This Element has no direct support; therefore, it acts as a Supertalent, in this particular case, a Performer Supertalent. He is also currently going through 30 years of Water Dynamic Luck, making his Supertalent more active and prominent.
Yin Metal ME is combined with Yang Fire, and this combination creates an additional Water Element (supported by Water from his Dynamic Luck).
His Fire Element is excessive, Snake, Horse, and Tiger create a strong Fire structure, but he can balance things out due to the current Water influence and solid Metal structure.
Water is Output for him, and Output represents our creative freedoms, and ultimately, our freedom of speech. This Element is essential for him because, without Water Element, his Yin Metal would be completely subdued by Fire Element. Fire is Power Component for him, representing authority. The Fire is an existential threat to him, so he uses Water as Output (speech) to confront authorities and oppressive political systems.
This is a chart of a rebel seeking the ultimate freedom; therefore, it is not surprising that he is involved in such political activities.
The Ox plays an important role here; it combines with Snake, creating a solid Metal structure that provides strength to the Yin Metal. The Earth in hour Pillar also represents Intellect Component. In combination with Output Components, Intellect creates a solid Creativity Bridge, perfect for a university professor.
As we can see, Jordan Peterson is pretty much in his prime time, so his influence in this field might last for another 20 years or so.
---
Also published on Medium.