(Also known as Friend BaZi Profile)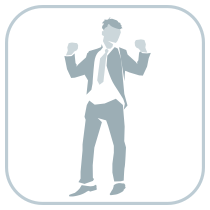 Motivator Talent belongs to BODY Character Component, together with Competitor, its counterpart.
The Motivator Talent is known as the ultimate networker. Individuals with this Talent have strong need to engage and connect with other people. They have unique ability to put people at ease with their smooth socializing skills.
These qualities are exceptionally useful in a work environment where they might show an excellent talent for delegating, putting teams together and providing necessary resources. They are often thoughtful and appreciative, ready to participate enthusiastically in some form of group or team assignment. Because they are genuinely interested in people, they are very good at spotting and developing talents in others.
When a situation requires urgency, they will be first to react, and always looking for a win-win situation, trying not to leave anybody behind, even if it's at their own expense.
On the flip side, when Motivator is excessive and unchallenged, they can often use manipulative tactics to achieve their goals. An unhealthy ego is also one of the downsides of Motivator, their self-absorbing behavior usually put people off. For this Talent to prosper, the key is to keep ego checked.
The family is vital for Motivator people; they draw strength from close family connections while providing support to the family gives them purpose.
CHARACTER TRAITS AND PROFESSIONS
Below are few key character traits and professions which are related to the Motivator Talent, accompanied with real-life examples from famous people so that you can get a better idea of its unique characteristics.
Confidence is the first thing which comes to mind when we try to describe Motivator Talent. They have it in abundance and often can transmit their spirit to other people, mostly through their vibrant networking activities. They love people, they enjoy helping communities, and nothing is hard for them, as long it benefits others.
Barack Obama is an excellent example of the person with a healthy and robust Motivator Talent, providing him with confidence which he can transmit to others.
Richard Branson is another excellent example of balanced Motivator and radiating confidence.
Motivator Talent gives a person a sense of a strong bond with ordinary people. Pope Francis is known for his focus on ordinary people, and he has no problem lowering himself on their level, putting aside his position, which is typical behavior of the balanced and selfless Motivator Talent.

This Talent is all about bonding with people of the same rank or social status. Politicians with this Talent in their chart will often use it to show people that he or she is one of them. These bonding character traits have been seen in Donald Trump and Barack Obama, each using them to address people in their specific way, producing different outcomes and expectations. Both political platforms believe that power needs to be given back to the people. These ideas are very much the core of the Motivator Talent.
An unhealthy ego is the primary negative character trait related to people with excessive Motivator Talent. When this Talent is balanced, a person has good control over their dominance, but when overly active and unchallenged, they might get carried away with influence and power.
One of the best examples is Donald Trump who often can't help himself but praise his work, business or just himself.  In the mind of strong Motivator person, they are the central point of everything; they enjoy attention, therefore is often quite difficult for them to detach or to see things from other peoples perspectives.
Kanye West is another excellent example of the person unable to control their ego; there are few quite good examples of his excessive behavior.
Charlie Sheen also falls into the category of out of balance Motivator with an inflated ego.
MOTIVATORS ARE MOTIVATED BY:
Having intimacy and being loved
The ability to express feelings
Being needed by others
Being appreciated and admired
The need to be the best friend
The ability to help and rescue others
DEMOTIVATED BY:
The feeling of being disconnected from loved ones
Being impersonal
Being left out
Being viewed as unhelpful
Being seen as unappreciated
Famous people with strong Motivator Talent.
| | | | | |
| --- | --- | --- | --- | --- |
| BUSINESS | SPORT | MUSIC | MOVIES | POLITICS |
| Rupert Murdoch | James LeBron | Sting | Sigourney Weaver | Hillary Clinton |
| Hugh Hefner | Stephen Curry | Prince | Matt Damon | Barack Obama |
| Donald Trump | Kobe Bryant | Gwen Stefani | Gwyneth Paltrow | Donald Trump |
| Richard Branson | Jose Mourinho | Tupac Shakur | Nicolas Cage | Theresa May |
| Pablo Escobar | Louis van Gaal | Thom Yorke | Brad Pitt | Dr. Martin Luther King |
| Jeff Bezos | Zlatan Ibrahimovic | Kanye West | Ryan Reynolds | |
| Larry Page | | Justin Bieber | Kevin Spacey | |
| | | Liam Gallagher | Chris Pratt | |
| | | Kurt Cobain | Charlie Sheen | |
| | | Miles Davis | Idris Elba | |
These are suitable professions for people with healthy and balanced Motivator Talent.
PR
Events management
Sales and marketing
Team sports
Entrepreneurship
Character traits of people with balanced and healthy Motivator Talent.
Bringing people together
Strong-willed and decisive
Looking for a win-win solution for each side
Self-competitive / Self-improving
Confident
Delegating
Character traits of people with out of balance Motivator Talent.
Proud and self-important
Stubborn
Egoistic
Gets hurt by criticism
Poor social skills
Arrogant
These negative character traits will manifest when Motivator Talent is excessive, dominating the entire chart, and mostly in situations when individuals are under enormous pressure or threat.
Manipulative
Ruthless
Aggressive
Possessive
Obsessive
Vengeful
Unforgiving
Reckless
Please note that every Talent sways between good, bad and ugly characteristics. It's unlikely that a person will react ONLY positive or ONLY negative traits. The balance between these two depends a lot on the overall emotional stability of the person.