(Also known as Indirect Officer BaZi Profile)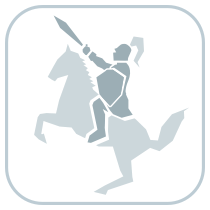 Warrior Talent belongs to POWER Character Component, together with Diplomat, its counterpart.
From all 10 Talents, there is none more capable of exercising command and authority as Warrior.
The Warriors are courageous, may have a very authoritarian stance and in certain situations can be somewhat intimidating. They are resilient and will rarely back down from the fight.
They are known for their ability to pick themselves up after the setbacks and rally and inspire everybody around to have another go.
Bold, brave and charismatic, they are one setting trends, not following them.
Warriors are highly ambitious and enthusiastic about things they do and care, rarely they will give up on their goals, no matter how hard and impossible they seem.
They are what they are because of people. Without people around them to inspire and command, there is not much purpose left for them. Therefore Warriors are typically comfortable around the people, especially in groups, where they know how to excel using their charisma and commanding skills.
Still, when Warrior Talent is excessive and detrimental, they can become overly-demanding and pushy. People might stay away from them because they tend to be forceful. They may also react too quickly and too harsh, overriding any analysis or reasoning. When this Talent is in a negative state, they can be very moody and suspicious, even paranoid.
CHARACTER TRAITS AND PROFESSIONS
Below are few key character traits and professions which are related to the Warrior Talent, accompanied with real-life examples from famous people so that you can get a better idea of its unique characteristics.
It's hard to imagine an influential, successful leader, with worldwide charisma, without having a high performing Warrior Talent in their charts.
Barack Obama, David Cameron, George Bush, Hillary Clinton, John F. Kennedy, Margaret Thatcher, Vladimir Putin, Winston Churchill, just to name few most known, but the list of world leaders with Warrior profile is extensive.
For politicians, Warrior Talent is essential because it carries two main traits for successful leadership, charisma, and authority.
It also gives them a certain amount of aggression, which is necessary to be able to implement new policies and protect the integrity of the country and its citizens.

The Warrior Talent is extremely useful in the entertainment business because it provides charisma and a strong influence; therefore they can rally masses.
Few good examples are Beyonce, Nina Simone, and Oprah Winfrey, all three being hugely influential, and what is also important, all of them having firm opinions on particular political and social matters, whether it's racial or women rights issues, and are ready to fight for them. These character traits are very typical for Warriors.
Warriors genuinely care about people, and if they see injustice, they are prepared to rally the people and go into the fight, shoulder to shoulder, use any means they have, which in their case is media and large fan base.
In general, all Warriors are political by nature. Even if they are not politicians by profession, they will somehow involve themselves into daily politics, locally or globally, or at least will make sure to be informed so they can develop an opinion on issues that matter to them.
Due to their ambitious nature, Warriors are often not comfortable people to be around. They have a constant need to act and motivate people around them into action. Usually, on their own, they cannot do much, because their power comes from influencing and inspiring other people.
But when their Warrior Talent is excessive and out of balance, this dynamic can turn into a very unpleasant force. They might become paranoid and start seeing enemies on every corner. They might also be very unhappy about the speed of the progress, and begin to use more forceful tactics to get things going.
WARRIORS ARE MOTIVATED BY:
The ability to achieve stability
Being able to test the loyalty of others
The ability to have certainty and reassurance
DEMOTIVATED BY:
Feeling or being abandoned
Working with aggressive, stubborn people
Having uncertainty in their lives
Famous people with strong Warrior Talent.
| | | | | |
| --- | --- | --- | --- | --- |
| BUSINESS | SPORT | MUSIC | MOVIES / TV | POLITICS |
| George Soros | Jürgen Klopp | Beyonce | Kristen Stewart | Barack Obama |
| Howard Hughes | Novak Djokovic | Whitney Houston | Meryl Streep | David Cameron |
| Michael Bloomberg | Pep Guardiola | Adele | Michael Fassbender | George Bush |
| | Michael Schumacher | Amy Winehouse | Oprah Winfrey | Hillary Clinton |
| | Tom Brady | Chris Martin | Vin Diesel | John F. Kennedy |
| | Rafael Nadal | Nina Simone | Kate Winslet | Margaret Thatcher |
| | John Terry | Elvis Presley | Keanu Reeves | Vladimir Putin |
| | | Amy Winehouse | Tom Hardy | Winston Churchill |
| | | Frank Sinatra | Meryl Streep | Lyndon B. Johnson |
| | | Taylor Swift | Matthew McConaughey | Princess Diana |
| | | Bruno Mars | Uma Thurman | Queen Mary |
These are suitable professions for people with balanced Warrior Talent.
Corporate
Government
Politics
Law
Military
Business
Life coach
Sports coach
Character traits of people with balanced Warrior Talent.
Authoritative
Charismatic
Driven
Brave
Altruistic
Loyal
Influential
Character traits of people with excessive and out of balance Warrior Talent.
Impulsive
Restless
Harsh
Temperamental
Defensive
These negative character traits will manifest when Warrior Talent is excessive, dominating the entire chart, and mostly in situations when individuals are under enormous pressure or threat.
Revengeful
Suspicious
Paranoid
Obsessive
Please note that every Talent sways between good, bad and ugly characteristics. It's unlikely that a person will react ONLY positive or ONLY negative traits. The balance between these two depends a lot on the overall emotional stability of the person.