(Also known as Direct Resource BaZi Profile)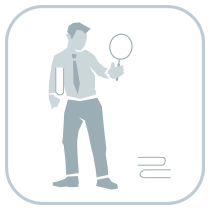 Analyzer Talent belongs to INTELLECT Character Component, together with Philosopher, its counterpart.
Analyzers are typically introspective types, known for their brain power and intellect, carrying a reputation for being wise and knowledgeable.
They are also very interested in culture, history and have a sophisticated taste for various things.
Analyzers are very much interested in how the world works, and they can create large-scale theoretical models on various topics, from finances to health and education. Often Analyzers are involved in the stock market business and trading, because of their ability to discover and develop patterns.
They aim to get to the root of the matter, and for that, they need as much information possible.
Analyzers are pretty much opposite of Performers; they dislike anything flashy and attention-seeking.
They are elegant, refined, often singularly unique, imaginative and witty, with a high sense of aesthetics and sensibility.
Analyzers enjoy working alone, or in a small group of people united around the same goal, in a quiet, unobtrusive environment. They dislike big groups and crowds because it interferes with their thinking and reflection process.
But being too much of a thinking person, they can also be entirely impractical in a real world, and occasionally overly laid back.
They spend too much time analyzing their thoughts and emotions, which can lead to procrastination, laziness, and depression.
Often they neglect the simplicity and power of action and expect that they can analyze their way out of everything, which is usually not the case, which frustrates them.
CHARACTER TRAITS AND PROFESSIONS
Below are few key character traits and professions which are related to the Analyzer Talent, accompanied with real-life examples from famous people so that you can get a better idea of its unique characteristics.
A healthy and balanced Analyzers can use their intellectual skills in many different fields. In science, we have Albert Einstein, by far the most famous scientist of our time. In technology, we have Ray Kurzweil, who has a high reputation in the tech world, and Steve Jobs, whose intellectual and creative skills brought Apple to become the most valuable company in the world.
In business, we have Peter Thiel and Jack Ma, while in politics we have Martin Luther King.
A fictional character, Sherlock Holmes, is probably the best personification of Analyzer Talent. And what is also very interesting, the creator of Sherlock character, Arthur Conan Doyle, had very strong Analyzer in his chart.
All these individuals are superb thinkers, in their fields, but with an ability to grasp the knowledge from other areas as well, due to their sizeable mental capacity.
Due to their high intellectual skills, Analyzer Talent is often seen in charts of famous songwriters, like for example Jim Morrison, Michael Jackson, Chris Martin, Eminem, Pharrell Williams, and many others.

From all ten Talents, Analyzers are the most compassionate. They are always in touch with their feelings and thoughts, therefore they have an excellent understanding of others as well.
Probably the most known nun and missionary, Mother Theresa, dedicated her entire life just to help other people, and her most active Talent is Analyzer.
LAZINESS AND HYPOCHONDRIA
Being too much of an intellectual person have of course its negative connotations. When Analyzer Talent is excessive, and out of control, a person might suffer from laziness and hypochondria. They spend too much time analyzing, while real-life implementation gets neglected. Analyzer Talent can be especially useless if a person doesn't have a Performer or Artist Talents, which can act as a positive output for excessive Analyzer. When Analyzer gets combined with one or both of these creative Talents, it's a clear sign of very high intelligence.
ANALYZERS ARE MOTIVATED BY:
The need to express their individuality
The opportunity to attract a "savior" who understands them fully
The potential to surround themselves with comfort and happiness
The chance to maintain certain moods and feelings
DEMOTIVATED BY:
Being unrecognized for their work and effort
Impersonal rules and codes of conduct
Having their taste and judgment questioned
Having to spend time with people lacking emotional depth
Feeling like they are "required" in social settings
Having to restrain emotions
Famous people with strong Analyzer Talent.
| | | | | |
| --- | --- | --- | --- | --- |
| TECH / SCIENCE | SPORT | MUSIC | MOVIES | POLITICS / SOCIETY |
| Jack Ma | Garry Kasparov | Sting | James Franco | Martin Luther King |
| Marissa Mayer | Roger Federer | Michael Jackson | Jennifer Aniston | Arnold Schwarzeneger |
| Peter Thiel | Diego Simeone | Nina Simone | Cate Blanchet | Mother Theresa |
| Ray Kurzweil | Zinedine Zidane | Tom Petty | Chris Evans | Donald Trump |
| Steve Jobs | Cristiano Ronaldo | Chris Martin | Christian Bale | Arthur Conan Doyle |
| Alfred Einstein | Johan Cruyff | Bruno Mars | Leonardo Di Caprio | |
| Marc Andreessen | | Jim Morrison | Holly Hunter | |
| Paul Graham | | Eminem | Denzel Washington | |
| Jeff Bezos | | Pharrell Williams | George Clooney | |
| Reed Hastings | | David Gilmour | Morgan Freeman | |
| Travis Kalanick | | Miley Cyrus | Daniel Day Lewis | |
These are suitable professions for people with balanced Analyzer Talent.
Academics
Education
Science
Research
Intellectual property patents
Financial analysts
Fund managers
Medicine
Writers
Character traits of people with balanced Analyzer Talent.
Analytical
Razor-sharp thinking
Cultured
Compassionate
Gentle
Sophisticated
Character traits of people with excessive and out of balance Analyzer Talent.
Worry about reputation
Aristocratic pride
Acting special and unique
Dramatic
Indulging in suffering
Dependent
These negative character traits will manifest when Analyzer Talent is excessive, dominating the entire chart, and mostly in situations when individuals are under enormous pressure or threat.
Paranoia
Hypochondriac
Deceitful
Bribery
Anorexia
Please note that every Talent sways between good, bad and ugly characteristics. It's unlikely that a person will react ONLY positive or ONLY negative traits. The balance between these two depends a lot on the overall emotional stability of the person.