(Also known as Eating God BaZi Profile)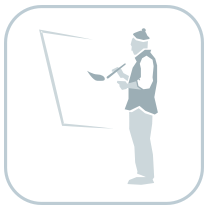 Artist Talent belongs to OUTPUT Character Component, together with Performer, its counterpart.
Artists are classical, renaissance type of intellectuals, where one displays a wide range of interests and competencies.
Knowledge is the driving force of the Artists, it excites them, and it represents the primary challenge to them.
They are refined souls who enjoy culture, art, fine dining, and luxurious lifestyle.
They are resilient and resourceful, firmly believing that life is good, so they bounce back quite fast from their setbacks.
Creativity is the key feature of Artists, often they have many talents and enjoy expressing themselves through various art forms. For them, art IS the way of life.
They value honesty and intellectual independence. Being controlled or managed is something the Artists can't stand very well, which is very similar to another creative talent, Performer.
On a negative side, Artists can be dreamy and idealistic, unable to face the realities of life. Their indulgement in refined lifestyle pleasures can sometimes result in neglecting their responsibilities.
Creative and thought process sometimes can be too attractive for them to deal with the harsh realities of money, relationships or legal matters, which can be quite disastrous in the end. The key for Artist people is to keep one foot always in reality, or at least have somebody taking care of that part.
CHARACTER TRAITS AND PROFESSIONS
Below are few key character traits and professions which are related to the Artist Talent, accompanied with real-life examples from famous people so that you can get a better idea of its unique characteristics.
SUPERB INTELLECT AND ATTENTION TO DETAILS
Some of the most significant thinkers and creators of our time have strong Artist Talent in their charts.
Steve Jobs represents the Artist Talent very clearly, with his love of art and refined, beautiful things in life. He was obsessed with the idea that computers and phones should be a work of art and not just another piece of digital equipment. He insisted on every detail, and the creative process involved a lot of artistic types of people, who were similar to him, like Jonathan Ive for example, who has a solid Artist Talent as well. Two of them together created the most iconic computers, phones, and music devices during their cooperation which lasted over ten years.
The Artist Talent in both of them played the key role in this creative process.

The list of world-class musicians and actors with prominent Artist Talent in their chart is very long so we will name only the most notable. David Bowie, George Clooney, Janis Joplin, Jay Z, Jennifer Lawrence, Kevin Spacey, Kurt Cobain, Marlon Brando, Michael Jackson, Michael Stipe, Nicole Kidman, Prince and Tom Hanks.
From our research, the Artist Talent is the most critical Talent when it comes to entertainment and show business. They are the best in what they do, they have high attention to detail, and their creative and presenting abilities are just superb.
By being so obsessively focused on a creative and intellectual process the Artists can sometimes lose sight of reality and get lost in indulgements, whether that is alcohol, food, clothes, jewelry, shopping, etc.
Drugs are very often used by Artist people because it helps them expand their creative and intellectual abilities, but combining that with their weak connection with reality, it can result in a disastrous outcome.
Addictions are very common among Artists, some of the best (or worst) examples are Ben Affleck (sex addiction), David Bowie (drugs), Janis Joplin (drugs), Kurt Cobain (drugs), Bradley Cooper (alcohol) and Prince (sex), and this is just a few on top of our minds.
It's very likely that the majority of top-level Artists suffered from some type of addiction, especially during their most creative times. Being excessively creative can result in neglection of basic physical needs, losing a balance between body and mind.
ARTIST ARE MOTIVATED BY:
The ability to enjoy life
The opportunity to have many different experiences
The liberty of being free and having many options
The freedom to enjoy pleasure
The chance to try variety of things
DEMOTIVATED BY:
Having to spend time with people lacking taste
Feeling trapped due to limited choices or options
Feeling bored
Feeling guilty
Being forced to slow down, or to be still and quiet for long periods of time
Being made to dwell in the past
Famous people with strong Artist Talent.
| | | | | |
| --- | --- | --- | --- | --- |
| BUSINESS | SPORT | MUSIC | MOVIES | POLITICS |
| Steve Jobs | Gareth Bale | David Bowie | Ben Affleck | Vladimir Putin |
| Mark Zuckerberg | Lionel Messi | David Byrne | Bradley Cooper | Barack Obama |
| Larry Page | Zinedine Zidane | Janis Joplin | Robert de Niro | Kim Jong-un |
| Jack Ma | Garry Kasparov | Jay Z | Cate Blanchet | |
| Jonathan Ive | Serena Williams | Kurt Cobain | George Clooney | |
| | Roger Federer | Michael Jackson | Idris Elba | |
| | David Beckham | Michael Stipe | Jennifer Lawrence | |
| | Ayrton Senna | Prince | Josh Brolin | |
| | James LeBron | Jimi Hendrix | Kevin Spacey | |
| | | John Mayer | Marlon Brando | |
| | | Frank Sinatra | Michael Keaton | |
| | | Adele | Nicole Kidman | |
| | | Michael Stipe | Scarlett Johansson | |
| | | Iggy Pop | Sigourney Weaver | |
| | | Pharrell Williams | Tom Hanks | |
| | | Jay Z | Tom Hardy | |
| | | Miley Cyrus | Woody Harrelson | |
| | | | Harrison Ford | |
These are suitable professions for people with balanced Artist Talent.
Academics
Education
Fine arts
Design
Journalism
Writing
Character traits of people with healthy and balanced Artist Talent.
Highly creative and artistic
Executor of ideas
Strategic thinker
Cultured and sophisticated
Excellent taste for beauty and luxury
Enjoys theories and concepts
Love to enjoy and experience life
Character traits of people with excessive and out of balance Artist Talent.
Impractical dreamers
Over-intellectualisation
Overindulging
Impatient
Eccentric
Fear of commitment
These negative character traits will manifest when Artist Talent is excessive, dominating the entire chart, and mostly in situations when individuals are under enormous pressure or threat.
Addicted to pleasures
Highly critical and judgmental
Narcissistic behaviour
Overweight
Please note that every Talent sways between good, bad and ugly characteristics. It's unlikely that a person will react ONLY positive or ONLY negative traits. The balance between these two depends a lot on the overall emotional stability of the person.