Russel Brand – The Need For Speed
I enjoy watching Russel Brand's live streams or, even better, live debates with other people. I have never met someone with such extraordinary communication skills and exceptional speed of thought.
You should watch him running mental circles around several experienced TV hosts on MSNBC's Morning Joe show in the video below.
He is fast, precise, and obviously very well prepared for a debate. Those professional TV hosts were scrambling to tame his energy, and one of them looked like she lost the plot for a moment. His influence is simply mesmerizing.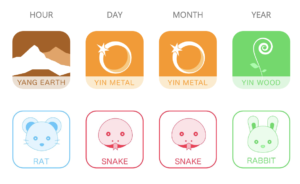 Russel Brand's chart is quite impressive, with a clear Element dynamic. He is a Yin Metal Master Element, surrounded by a lot of Wood and Fire. Yin Metal people love the glittering effect of Yang Fire; it makes them shine, so when you put such a person on a stage, they will most likely outshine everybody else and enjoy the process very much because being in the center of attention is their main drive.
The dynamic between Yin Metal and strong Yin Wood is also interesting, bringing him an energetic character with Pioneer Talent. Due to this setup, it's evident that he loves mental and physical stimulation, which also explains his previous troubles with drug addiction. Pioneers like dangerous situations, especially those that require fast thinking, so Russel has no problem putting himself in challenging conditions in front of live cameras.

His current Dynamic Luck is also quite favorable. Ox is utilizing two Snakes, creating a Metal structure, which is very good in his case. The utilized Fire Element brings him power and influence. On top of that, Ox's Earth is utilizing Wood, which brings him financial independence.
---
Also published on Medium.