Dylan Mulvaney is the infamous transgender person who got pushed into stardom after Bud Light used her persona in their marketing campaign, which spectacularly imploded after the massive conservative outrage and boycott, costing the Bud Light company billions of dollars in sales and stock value.
Dylan is known for his dramatic performances on social media, so I decided to look at his chart; he seems like an interesting case study. 
He is born as a Yang Metal Master Element. Although he identifies as a female, in BaZi, gender at birth is the only thing that matters, which is male in his case. Our Dynamic Luck doesn't change just because we feel different about our bodies or sexuality.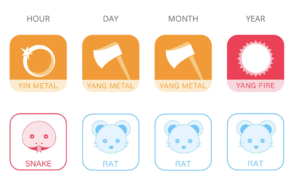 The first thing that jumps out in his chart is the triple Rats setup, telling us that his character traits are most likely on the extreme spectrum. Rat brings Yin Water, and Yin Water represents his Output Component, specifically, a Performer Talent. This tells us that Dylan is very much driven by the need to perform and be able to express his thoughts and creativity in every possible way. Performers enjoy very much being at the center of attention; in Dylan's case, this is pushed to extremes.
If you watch his videos, you will notice that he is almost unable to talk calmly; he is constantly in performance mode, showing many emotions and gimmicks. Excessive Performers have a tendency to create drama to draw the audience in. Often people like that are privately suffering from depression.
Is Dylan Mulvaney on drugs? pic.twitter.com/ztv2S0IS2f

— Dr. Anastasia Maria Loupis (@DrLoupis) July 2, 2023
The question is, how come he became so famous? The key is in his Yang Fire yearly Stem, which acts as Charismatic Supertalent and is of excellent quality because that Fire is counterbalancing extreme Water in his chart. Charismatic Supertalent, when of good quality, can help people to reach fame and interact with other influencers.
Yang Fire is combined with his Yin Metal, indicating an ability to gather crowds because Yin Metal is acting as a Networker Supertalent here. 

He is currently in a Water Rabbit Dynamic Luck. Rabbit brings Wood Element, which is Wealth Component for him. So Dylan can convert that massive Water Energy into Wood; therefore, he is in his prime money luck.
So, regardless of how you feel about him (or her), he is maximizing his chart capabilities and the current Luck, but I do have a feeling that he is somewhat emotionally unstable; handling that massive Output can be extremely difficult, and I hope he will find the way to balance those extremes eventually.
---
Also published on Medium.