Ron DeSantis – Too Early? Too Ambitious?
Ron DeSantis has been a Governor of Florida since 2019 and came to fame with his contrarian approach towards vaccination, mandates, and lockdowns, and rather quickly became a hero of conservatives.
Since then, we have had rumors about his candidacy for the US president, and a few weeks ago, he finally announced his bid. This created a bit of a stir on the right side of the political aisle because most conservatives were expecting Trump to sail smoothly through GOP primaries.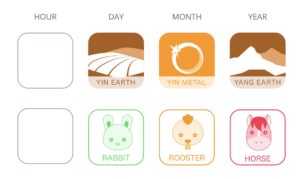 DeSantis is born as a weak Yin Earth Master Element in the middle of Autumn when the Element of Metal is the strongest. This tells us that he is very vocal and likes to argue with those in power (Metal being his Output Component). He is also very competitive and can rally masses, thanks to his Yang Earth / Competitor Talent.
Some critics say that he is not a caliber for an international leader, and I have to say, I have to agree with them.
Wood Element represents Power Component, which is crucial for politicians, and it's situated in his Rabbit Day Branch. This is not ideal; the Wood should be in the monthly or yearly pillar for international activities. This indicates that his political power is more active in a limited, local surroundings, like the State of Florida, and that he will have problems projecting that power on the entire country and the world.

It's helpful that he is now in a Yin Wood period (since 2016), but I don't think it will be enough. The next period, from 2026, looks more promising because Tiger is combining with Horse in the yearly pillar, plus the Yang Fire at the top is providing him strength for his Master Element, which is a bit on the weak side now.
---
Also published on Medium.