Peter O'Toole – The Creative Genius
Peter O'Toole is a legendary actor, most famously known for his portrait of Lawrence of Arabia, but his work goes well beyond that and is now recognized as one of the greatest actors of all time.
He was known for his charismatic character and for ensuring creative freedom in every project. He is one of the few great actors who never went to Hollywood and never campaigned for the Oscars (which is usually required). Peter O'Toole was his own man, independent and stubborn in his ways, which made him such an impressionable actor.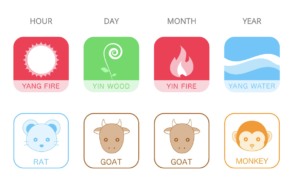 Peter O'Toole was a Yin Wood Master Element, well rooted in two Goats below, with an additional source of Water Element, so his Master Element was solid.
The flow of Elements is excellent; the Yin Wood produces Fire, while Fire produces Earth, and these two Elements are firmly obtaining Water and Metal, so all his Elements are well utilized.
Fire is his Output, which is essential for actors. He had both Yin Fire and Yang Fire, which means he had Artist and Performer Talents, solidly on top of his chart, useful and accessible.
He was known to be a casual drinker and somewhat of a womanizer. These character traits are clearly related to his Pioneer Talent (Yin Earth within the Goat).
His independence came from the Bridge between Water and Earth, making him financially and creatively independent.

His Talent Bridges are rather impressive. 4 out of 5 of his Talent Bridges are fully functional. The most prominent Talent Bridge is Creativity, which gave him intelligence, further strengthened through Yin Fire & Yang Water combination (Output + Intellect). He was famously known to be able to remember entire scripts, from cover to cover, almost effortlessly.
Altogether, it's a superb chart, highly energetic, expressive, and well utilized, so it's no wonder that Peter O'Toole had such a successful and long-lasting career.
---
Also published on Medium.