Capturing and delivering high energy on the screen is not easy, and not many actors and actresses can do it without looking foolish or out of place. 
Margot Robbie made a name for herself through high energy and extraordinary acting skills. Her energy was displayed in the Suicide Squad movie, where she played Joker's girlfriend, Harley Quinn. But I have to say, her newest film, Babylon, really left me speechless. She was stealing every scene with her high-energy performance and acting versatility.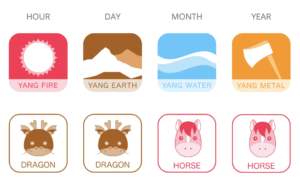 Margot Robbie is a Yang Earth Master Element, with two Dragon Branches and two Horse Branches next to each other. The double Horse indicates intense Fire and high energy, but what makes her chart super efficient and interesting are the Stems.
Yang Water is her Pioneer Talent, also acting as Supertalent. Pioneers are known for their high energy and need for constant mental or physical stimulation. Women with such setups are prone to behave more like men by being dominant and often loud. Such people are difficult to handle or constrain because they seek creative freedom.
Yang Metal is her Artist Talent, also acting as a Supertalent, giving her extraordinary creativity.
With two high-grade Supertalents, she is ideally suited for art, entertainment, and communication activities, as seen in her tremendous work.

Margot is going through a Yin Earth Rabbit Dynamic Luck at the moment. That Yin Earth is probably not so helpful because it disturbs Yang Water, but Rabbit is pretty good because it brings her Wood Element, which is lacking. Wood Element represents fame and power to her, so we will most likely see her influence growing in the coming years.
---
Also published on Medium.