I watched a movie the other day, Tár, with Cate Blanchett, which reminded me of how fascinating her acting skills and the accompanying chart are. I wanted to write about her for quite some time, but this movie and her exceptional performance finally forced me to put something on "paper".
It's a perfect presentation of her skills and core personality; we rarely see her in leading roles, while in this movie, she is practically in every scene.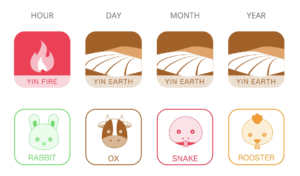 CREATIVE POWER
Cate Blanchett is born as a powerful Yin Earth Master Element. Her Output is Metal and is exceptional due to a Harmony combination between Ox, Snake, and Rooster.
Therefore her creative skills are strong, supported by sturdy Earth and lively Fire, giving her the power to handle such a strong creative process.
Fire (Intellect) and Metal (Output) also create a powerful Creativity Talent Bridge. Both Elements are strong, and a combination between Snake, Rooster, and Ox gives a solid foundation to this particular Talent Bridge.

COMMANDING POWER
The strong Output gives her a commanding power. This is the type of person who seeks creative freedom and can gain control over authority in almost every situation. Her chart is an embodiment of female dominance, which means that she has a lot of power over men. If you study her movies, you will notice that she is always in a dominant position regarding men. This is mainly the result of her power-yielding Metal Element that is practically unchallenged.
SUPPORTIVE DYNAMIC LUCK
Her Dynamic Luck has supported her throughout her career, utilizing strong Earth, Metal, and Fire. Water and Wood are especially useful in her case, bringing her money and fame. Both Elements have been present in one way or another in the last four decades, giving her career exceptional longevity, which will most likely continue in decades to come.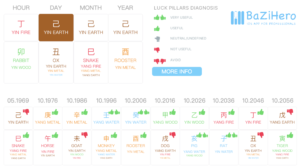 ---
Credits for a featured image: Joan Hernandez Mir
---
Also published on Medium.