Talent Hero vs other character profiling methods
There are few well-known character profiling methods, like for example Myers-Briggs (used by 16Personalities.com), FFM, Wealth Dynamics or Belbin, each with their own methods and theories. The key difference between us and others is that our method doesn't require a questionnaire. It's based on the Five Elements chart which is determined at the moment of our birth. An additional questionnaire can be used to improve our results and fill the gaps but generally, it works fine without it. A detailed explanation of our method can be found here.
Below you will find the main differences between our approach and what others are offering.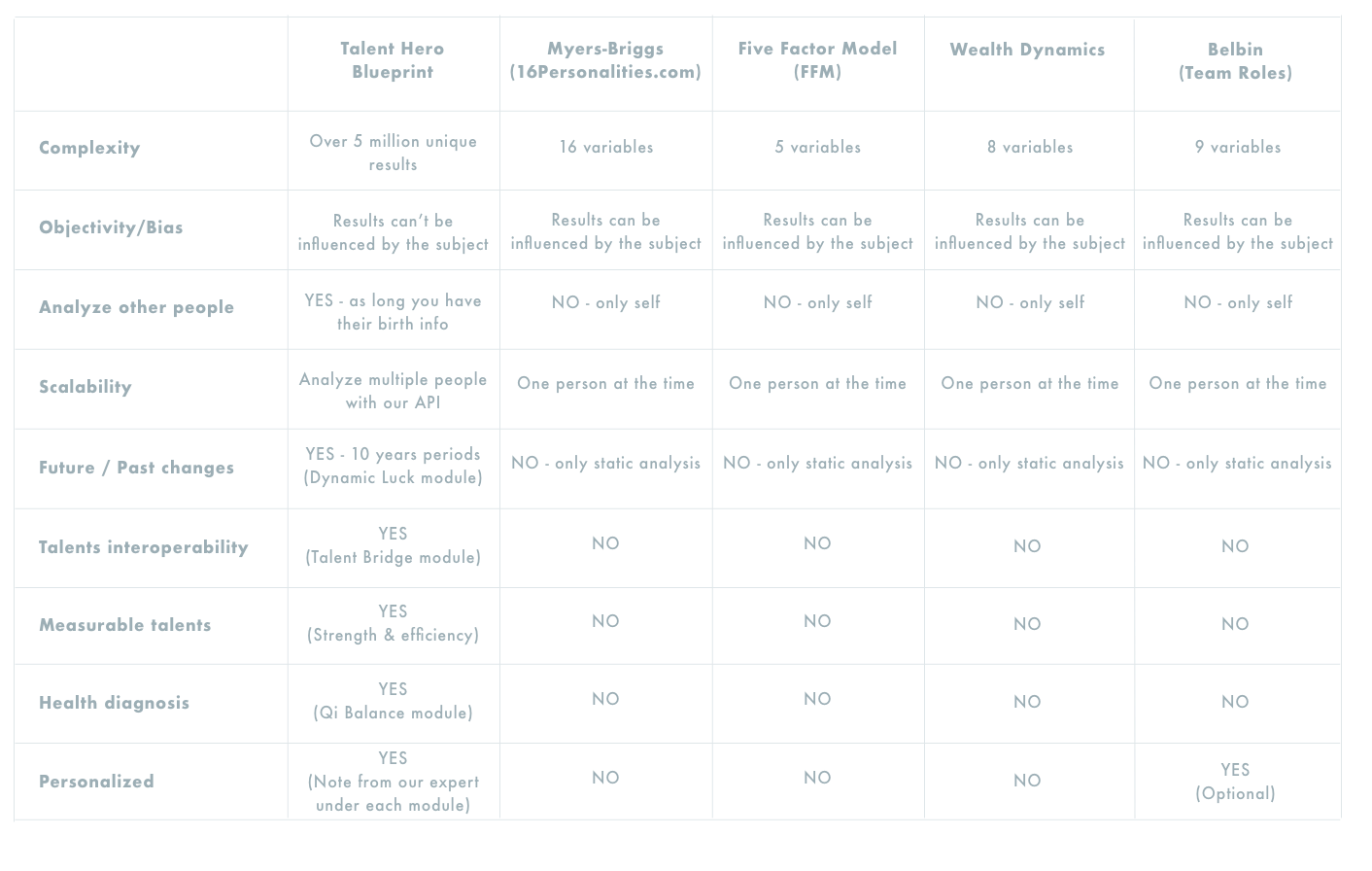 MULTILAYERED AND UNIQUE
Human beings are complex; therefore we believe that it is impossible to categorize a person within one single character profile, without losing on accuracy. Talent Hero offers a multilayered approach consisting of Character Components, Talents, Supertalents, Qi Balance, Talent Bridges, and a few others. There are over 5 million possible results; therefore each analysis is practically unique, or with small chances that you share the same one with someone you know.
UNBIASED
Most character profiling methods use questionnaires to generate results; therefore the objectiveness of user's input comes to question. Often we don't see ourselves clearly so we might, intentionally or unintentionally, skew results of the test. Talent Hero analysis is 100% unbiased because the analyzing process can't be altered in any shape or form by the subject of analysis.
ANALYSE MULTIPLE PEOPLE
Our method doesn't require input from the person directly; therefore we can check anyone, as long we have their correct birth info. Such a solution is perfect for large companies and HR departments who can take advantage of our API to generate multiple analysis almost instantly.
DYNAMIC LUCK – ANALYZING YOUR PAST AND FUTURE
People change, their character and talents develop throughout the time, and as far we can see, there is no single analyzing method out there able to measure such change.
But we can. Every ten years each of us is going through different periods, which influences our character and abilities. These changes can be analyzed and even predicted to a certain extent using our Dynamic Luck module.
INTEROPERABILITY BETWEEN CHARACTER TRAITS
Using our Talent Bridge module, we can see how different talents and character traits play together, creating an entirely new set of abilities.
MEASURING STRENGTH AND EFFICIENCY OF OUR TALENTS
Each talent and character trait can be measured for its strength and efficiency, giving us an entirely new dimension, something that no other profiling method can do.
HEALTH DIAGNOSIS
With our Qi Balance module, we can indicate possible health issues. Please note that this is not an extensive analysis, just a basic outline where we think the person might have a problem. We do not provide treatments or suggestions on how to deal with health problems. If you do have health issues, we strongly advise you to visit your doctor.
UNDERSTANDING THE ROOT OF THE CHARACTER
Myers-Briggs method is an intellectual analysis of the character, without actual understanding from where that character is coming from and what are the building blocks.
While some part of character comes from our parents and ancestors, the majority of it gets blueprinted at the moment of our birth, revealing the building blocks of our character traits. With our method, we can break down the character of the person up to small detail and see its origins. It is closest we can ever get to the blueprint of a human being.