Talent Hero Live: Beyond Survival
With so much contradiction and confusion, how can we calm down from this situation? Is it possible to discover peace in panic, cultivate creativity from chaos, and go forwards?
Let us show you how.
LIVE ENERGY SESSION
Without guidelines or tools for this situation, it can be somewhat daunting or even distressing trying to navigate alone! It's uncharted territory, and we are literally on the edge of something so new it's exposing our innermost fears.
Being at home gives us an excellent opportunity to explore what's going on inside ourselves. By investing your time now, you will learn to relax, improve self-management, and develop your abilities.
Inner peace and a positive vision of the future will benefit you and reflect on those around you. Perfect for your household to get harmonious together and keep your spirits up.
Every weekend we are organizing two live events, one on Saturday and one on Sunday, to cover all the timezones. Choose below one which suits you the most.
SATURDAY GROUP
(Suitable for those living in the USA, United Kingdom & Europe Timezone)
TIMETABLE
Berlin – 7:00 PM
London – 6:00 PM
Los Angeles – 10:00 AM
New York – 1:00 PM
SUNDAY GROUP
(Suitable for those living in Europe, Asia, Australia & NZ Timezone)
TIMETABLE
Berlin – 11:00 AM
London – 10:00 AM
Singapore – 5:00 PM
Melbourne – 7:00 PM
PROGRAM SUMMARY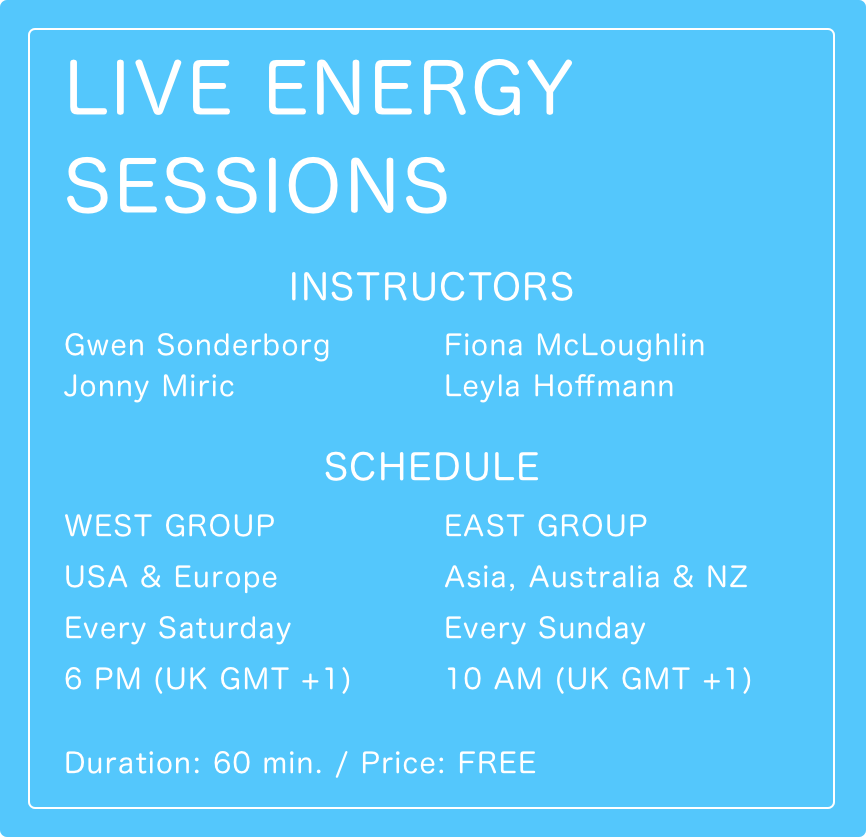 The one-hour Live Energy Session is a combination of guided relaxation and Five Element technical analysis. During the Q&A segment, you will have an opportunity to ask our experts personal questions.
Introduction (by Fiona, 10 min)
Guided Relaxation (by Gwen, 25 min)
Chart of the week (by Jonny, 10 min)
Q&A (15 min)
Live Chat moderators: Fiona & Leyla
Total duration: 60 Minutes
Price: Free
Maximum number of participants: 15
Platform: Zoom.us app
(We will email the Zoom link to participants 30 minutes before the start)
YOUR INSTRUCTORS - THE FABULOUS FOUR
Our instructors have extensive international experience in running businesses and managing staff and are now helping people deal with stress, override obstacles and discover and develop their talents.
You will receive input from our team and this powerful dynamic will fast track solutions to any life problem you may be experiencing.
During the session you will have a chance to ask them questions directly.
GWEN SONDERBORG

Co-Founder of Energy Clinic and Mind Hero, Relaxation instructor
EXPERTISE:
Natural relaxations
Nutrition
Qi Management
JONNY MIRIC

Founder of Talent Hero, BaZi Expert & Life Coach
EXPERTISE:
BaZi & Five Elements
Talent Discovery
Business Management
FIONA MCLOUGHLIN

Designer, Energy Instructor & Transformational Life Coach
EXPERTISE:
Life Technology
Vision Development
Business Management
LEYLA HOFFMANN

Co-Founder of Energy Clinic, Spa Manager & Life Coach
EXPERTISE:
Business Management
Sales
Relationships